Exploring our Roots
Recently, I was introduced to the wonders of a video series called 18th Century Cooking. And since February is a time many reserve for exploring and appreciating African-American culture, I was enamored of their series called "Food of the Enslaved" after a friend recommended it.
The first one that intrigued me was their episode on Kush, which was an African predecessor to what we know of as cornbread stuffing (or dressing in the South). It's also where the cajun pudding-like side of the same name originated, and likely the progenitor of the word couscous.
Michael Twitty is superb and I look forward to reading his book that follows African-American culinary history throughout the South. He also sent me down a rabbit hole in the episode where they explored Okra Soup, when he mentioned an ingredient called "kitchen pepper." It seems that before there was Old Bay or Mrs. Dash, there was a staple spice blend called kitchen pepper, which consisted of a mix of black, white, and red pepper along with seasonings that seem far from traditional white Southern fare. Much more likely they came from African influence.
But where to try out some of these wonderful flavors?
Thankfully, I had the opportunity at the annual Dinner with the Bishop, benefitting Camp Allen. They wanted bacon-wrapped quail as one of their meats, so I paired that with a pork tender with mustard marmalade glaze, and was searching for viable sides.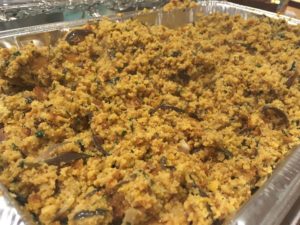 Kush to the rescue! This stuff came out fabulously. I crumbled up some buttermilk cornbread, sliced some onions and chopped some herbs, and we were off! Since Twitty recommends cooking the hash in animal fat, I used a fair bit of duck fat for this one. The flavor was perfect. One thing I'd recommend if doing this at home is not using red onions if setting it to keep warm for a while if you're preparing the rest of your meal. They tend to break down and lose their lovely color.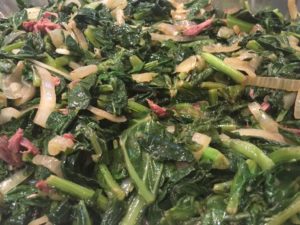 I also wanted to try my hand at utilizing kitchen pepper. I found a couple old recipes online and made my own, using it to flavor my collard greens along with some smoked turkey necks. Using the necks, spice mix, and onion, I made a nice broth to add while cooking the greens and onions in batches. Pulling apart turkey necks isn't easy, but getting that meat back in with the greens really makes them shine.
For the record, here's what my spice mix ended up being:
1 T black pepper
1T white pepper
1T ground chipotle pepper
1T cinnamon
1.5 T ground ginger
.5 T Nutmeg
.5 T Clove
.5 T Mace
.5 T Allspice
Here's the finished plate, which was a huge hit!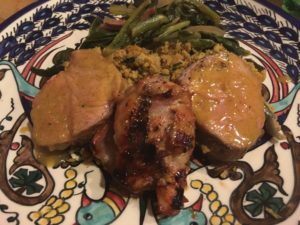 The best part was going around to the well-to-do folks enjoying the meal and educating them on the origins of not only what they'd been eating, but where some of their favorite recipes originated. Many thanks to the ingenuity of people who, though suffering under horrible conditions, managed to provide so many future generations with an amazing array of flavors that have influenced so many.