A Smokin Good Time!
Last year, I finally caved and bought my first electric smoker. It just made sense for catering gigs that want things like brisket. I can set and forget for a couple hours while I get other things accomplished. Masterbuilt makes a fine smoker, so I bought their 40″ smoker from Academy, which had some of the better prices I saw for smokers.
A couple notes on buying:
You might notice there are only descriptions of actual size on some of those smokers, and not all. I had to go to the store and visually inspect each model to make sure what I was getting. For the record, the 140B and the 140S models are exactly the same with just a couple differences.
The 140S costs about $50 more, has stainless around the front and sides, a window, a light, and a meat probe.
I don't care about the window, as it gets smoked out easily, as does the light. I do like the stainless look, however the biggest reason I opted for the 140S is the meat probe. THIS WAS A MISTAKE. That probe is only reliable in its untrustworthiness. Don't trust that temp reading, as it's way off from where a proper meat thermometer will read.
That all being said, the 140S is a great smoker overall. Just make sure you know what you're paying that extra $50 for.
Now, the other day, I was invited over for a proper BBQ, where everything's actually smoked. "Hooray!" I thought, "It's a great excuse to get out my smoker and play with some ideas!"
After falling down the rabbit hole of smoked vegetable recipes, I settled on a few things. I used other peoples' recipes just to get started. Let's see how they turned out!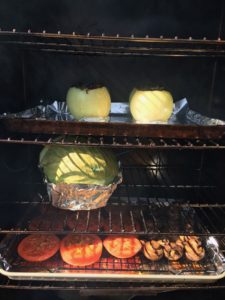 Bourbon Smoked Salmon
I got the idea from this site, because it sounded tasty. I opted for using a salt/sugar 1:1 ratio and some bourbon, rather than doing the soy sauce thing. I also didn't follow much of their instructions. Instead, I relied on this site, which I think has a better overall grasp on making a quality smoked fish.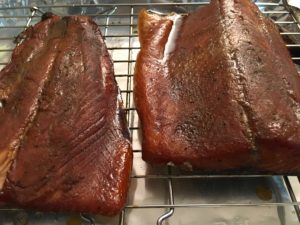 I ended up with a shorter/hotter cook than he recommends 170/1.5 hrs + 190/1 hr, because I was running low on time and other smoked items needed a good 100 degree higher temp.
(plan out your smokes, folks!)
My basting liquid was more bourbon mixed in with some blackstrap molasses, and it worked out great!
Smoked Cabbage
This one was by far the hit of the evening, and was so very easy. I used this recipe, more or less. I had some extra Salt Lick rub in the pantry, and used cider vinegar instead of balsamic.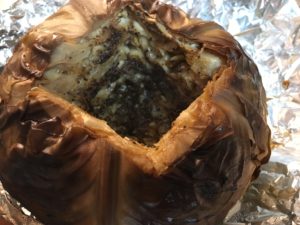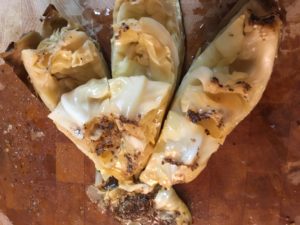 Still, super easy and super tasty. The only thing is that the rub doesn't really have anywhere to go, so it's pretty much congregated in the center area. But the mix of spice and butter is amazingly good!
Smoked Mushrooms and Tomatoes
These both went over really well, though the tomatoes didn't turn out like I expected. I used the larger tomatoes and sliced them into 3 large pieces. A little EVO, Salt and Pepper was all they needed. They melted in your mouth fabulously, but were a bit on the mushy side, so not easy to transport and serve. Plus, they were SUPER shiny. Kinda strange but definitely tasty!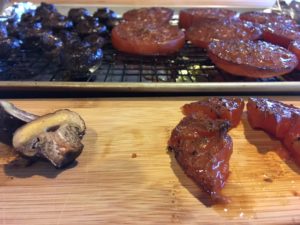 The mushrooms I just tossed in some leftover balsamic vin overnight to marinate, then threw them on the rack with the tomatoes.
Bacon-stuffed Smoked Onions
This is one I remember from back when we used to watch Barbecue U on PBS. Steve Raichlen did these like 20 years ago, and I swore one day I'd make them. I used Black Forest bacon from Trader's, and seeded my jalapenos. Next time, I might add more of those, or leave some seeds in, because the stuffing got almost lost. However, it was really tasty when you got a bite where the flavors all connected.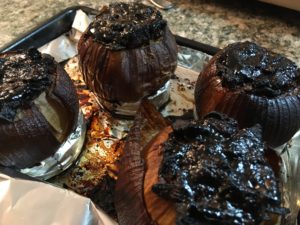 For serving these, I recommend cutting them in quarters, and kind of reassembling some stuffing on each. This worked out best. The bbq sauce got a bit lost as well, but I'm not sure it was entirely needed.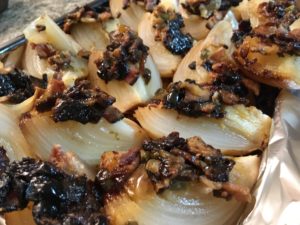 Either way, I highly recommend you try out these and other recipes  to keep your smoker in regular use!
Happy Cooking!